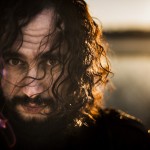 Hakan Vreskala composes the soundtrack of the resistant nature of Istanbul.
 He is back on stage for the release party of his latest cd with an explosive band ;revolutionary beats , groovy brass section and incredible percussion shows.
 After a  musical history started as a punk drummer,continuing as wedding musician and a professional percussionist touring all around the word with established artists ; he put all his heart to his first album ´the village s madman´ there he experiments on the levels of powerful balkan beats meeting with turkish-kurdish  softly killing  vocals and mindblowing lyrics.His music brings out the positive energy out of the angry crowds feeling neglected,his lyrics reach people who feel alone and weak  , his beats invite everyone to the  revolution after-party..
 Since the release of his first solo album , Hakan vreskala toured non-stop all the way from Brasil to Germany, Austuria,France,England,Scandinavia ,Canada, Turkey and met all people who has found themselves in his lyrics and vibes.
  Festivals like :Morgonland ,VIEN ´Into the City´ , SECS Pompie (Sao Paulo) ,Paradiso AMSTERDAM , Institude de Monde Arabe (Paris) , Urban SPREE (Berlin) ,Hoxton Square (London),lE Guess who (Utrecht) ,EKSIFEST (Istanbul )   are some big events Hakan Vreskala has met his audience during the past 2 years.
 In a short period he succeeded to meet and create a new audience that has long time expected a to get lost into a musical experience where hay can shout out loud their feelings political or  love ,  which gives the musical flavor of the geography , Anatolia.
This is the soundtrack of unresistable peaceloving,weddingly happy,revolutionary independent and erotic beats of istanbul!